IN APPRECIATION OF PROTECTED LAND, PROTECTED WATER
NEW HIKING BOOKLET AVAILABLE FOR DOWNLOAD!
Volume 3 of our Get Outdoors Poconos hiking booklet, published November 2022, is available as a free download! Click on the image to see and download the PDF document– save it on your phone for easy access while hiking!
Complimentary paper copies will soon be available at the BWA office.
Volume 3: Bowers Creek & Gap, Caldeno Falls/Table & Lookout Rocks, Cherry Valley Ridge Trail, Glen Park, Lost Lakes, Maple Tract Preserve, Resica Falls, Sixteen Mile Run & Dancing Ridge, Stony Run, Wolf Rocks, Dixon Miller Recreation Area, Long Pond Conservation Easement, Rattlesnake Falls, Spruce Mountain, Deep Lake & Wolf Swamp Lake, Devil's Hole Falls, Fern Ridge Bog
VOLS. 1 & 2 HIKING BOOKLETS TO DOWNLOAD
Volumes 1 and 2 of our Get Outdoors Poconos compilation booklets are available to download. Click on the image to see and download the PDF documents – save them on your phone for easy access while hiking!
Complimentary paper copies are available at the BWA office.
Volume 1: Pinebrook Park, Paradise-Price Preserve, Cherry Creek Loop, Austin T. Blakeslee Preserve, West End Regional Park, Thunder Swamp, Silver Valley Natural Area, Pasold Farm Preserve, Childs Park, Snow Shanty Loop, Sherwood Forest Greenway, Long Swamp, Swiftwater Forest Preserve, Zimmer Preserve, Stairway Ridge, Shuman Point, Mount Wismer
Volume 2: Big Woods, Mount Nebo, Red Rock Loop, Thomas Darling Preserve, Bruce Lake Natural Area, Cherry Valley National Wildlife Refuge, Lacawac Sanctuary, Mount Wismer 'from the top,' Nothstein Preserve, West End Regional Park's East End, Chestnut Mountain, Paradise-Price Preserve's Waterfall Trail
More hikes are listed below in the hiker's archives!
MAP YOUR FAMILY FUN OUTDOORS
Brodhead Watershed Association has just the ticket: "Finding fun in the Brodhead Watershed," a map of nature-based water activities, all but one of them public and free, right here in the Poconos – nature's original waterpark.
Waterfalls. Fishing holes. Places to paddle and wade. Driveable views and hikeable views. Even two short kayak routes. You'll find something here for people of most abilities. One side of the map gives you an idea of where activities are, and the other lists corresponding addresses, GPS and descriptions, and indicates activities suitable for children and people who use wheelchairs. We even tell you where your well-behaved, leashed dog can go with you.
GET YOUR FREE MAP
To get a copy of the map "Finding fun in the Brodhead Watershed," check these locations. Please call to confirm hours for browsing and curbside pickup.
• Barrett Paradise Friendly Library, 6500 Route 191, Cresco, PA 18326; (570) 595-7171
• Clymer Library, 115 Firehouse Road, Pocono Pines, PA 18350; (570) 646-0826
• Hughes Library, 1002 North Ninth Street, Stroudsburg, PA 18360; (570) 421-0800
• Library of the Smithfields, 5200 Milford Road, East Stroudsburg, PA 18302; (570) 223-1881
• Pocono Mountain Public Library, 5500 Municipal Drive, Tobyhanna, PA 18466; (570) 894-8860
• Western Pocono Community Library, 131 Pilgrim Way, Brodheadsville, PA 18322; (570) 992-7934
• Steele's Ace Hardware, 6626 Route 191, Cresco, PA 18326; (570) 595-2501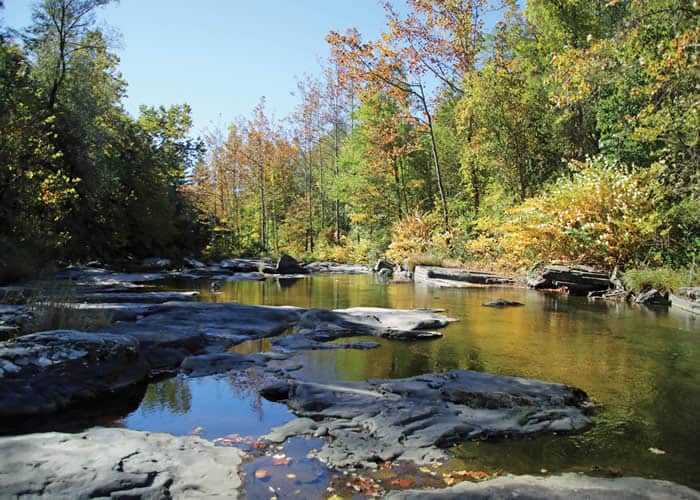 Easy, 1-mile trail through woods, and then another trail leading to waterfalls. Protects Brodhead and Cranberry creeks.
Secluded yet close to civilization; 159-acre park straddles a ridge between two creeks. Protects Marshalls Creek.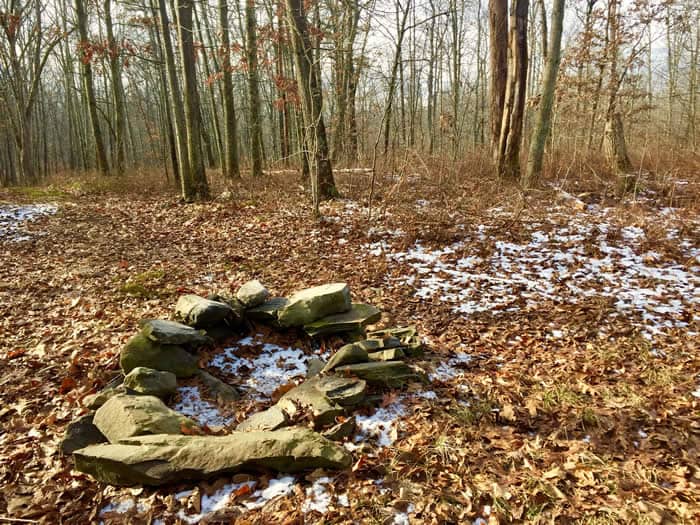 Easy trail on old woods road. 20-foot rock cairn. Start of a public-land greenway. Protects Brodhead, Cranberry creeks.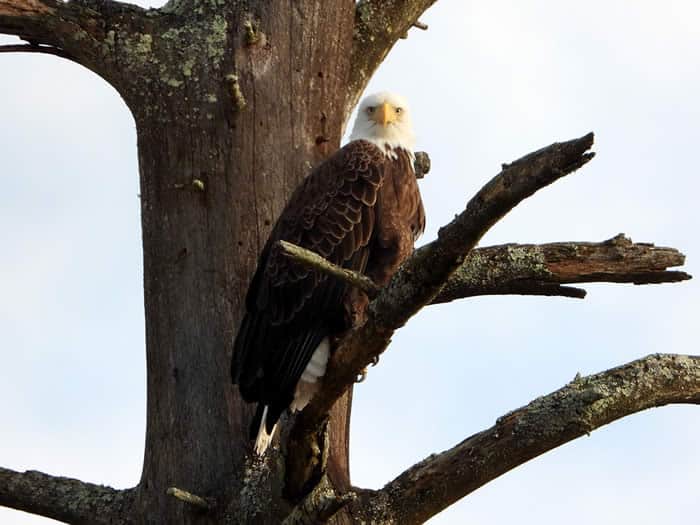 ForEvergreen Nature Preserve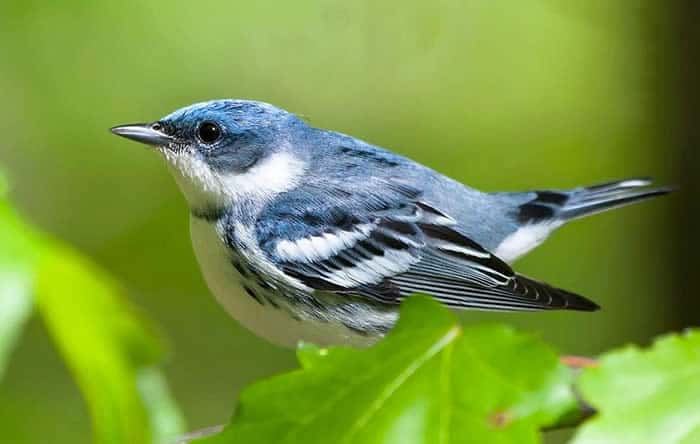 DELAWARE STATE FOREST'S WARBLER HABITAT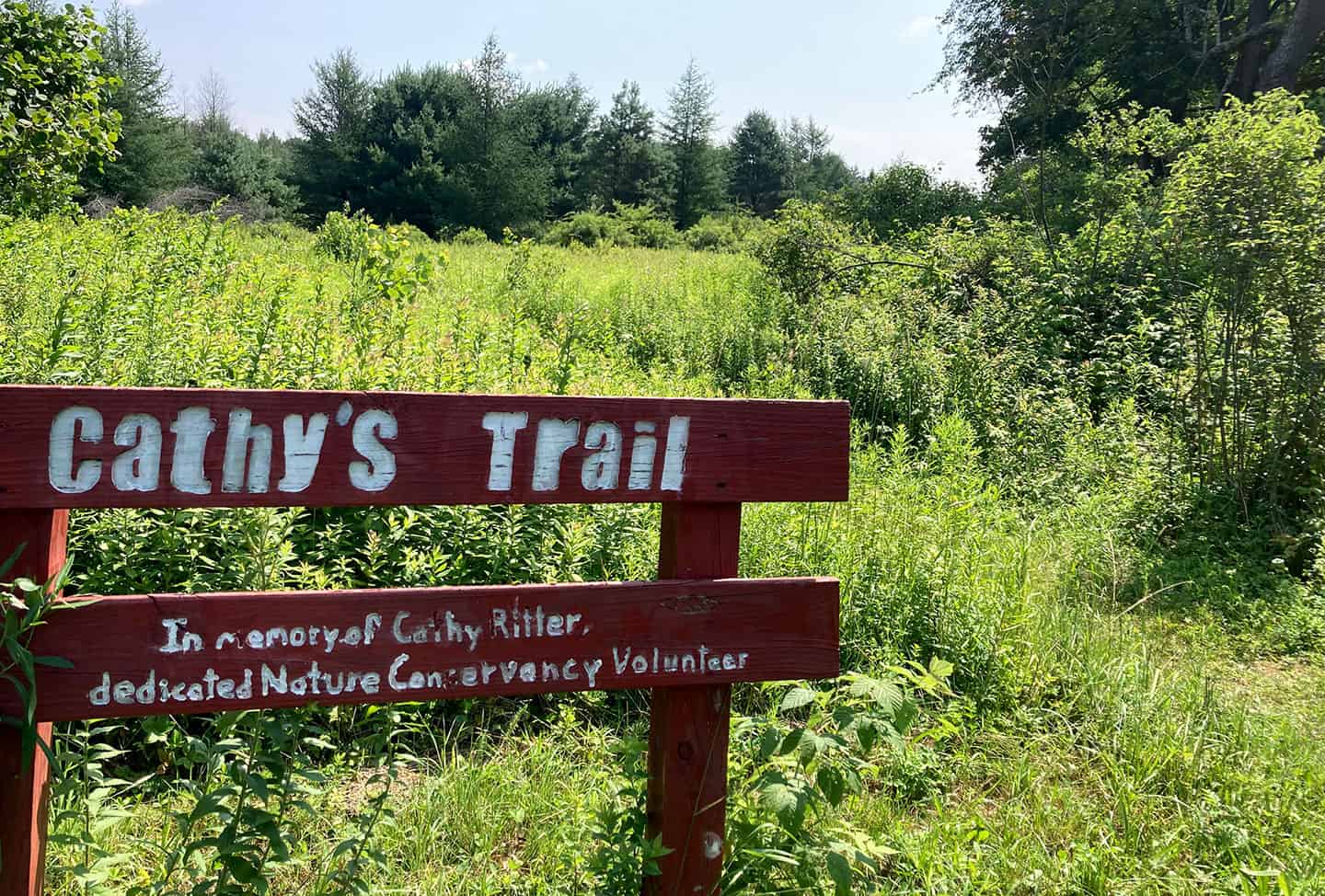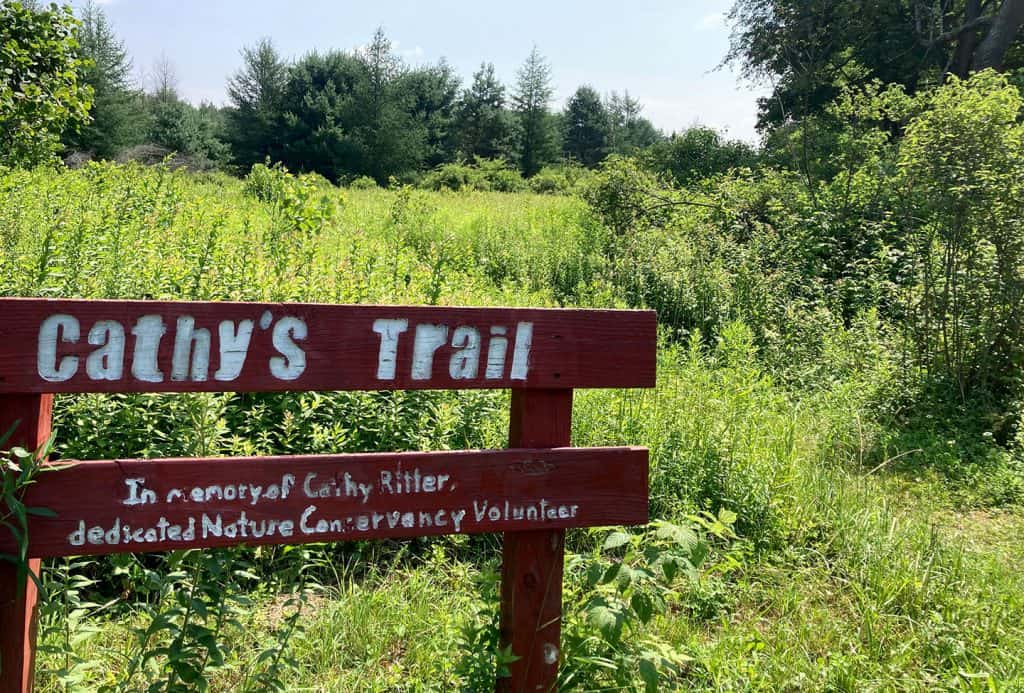 A winding hike through a boreal coniferous swamp, a natural environment more often found in Canada. Protects the Pocono Plateau headwaters.
150 acres to explore: Cranberry Creek crossing, old stone quarry and a gorge. Protects Cranberry Creek in Paradise watershed.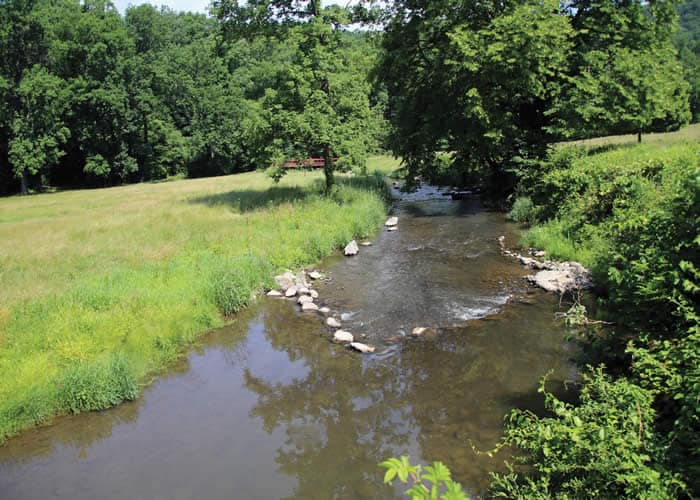 CHERRY VALLEY WILDLIFE REFUGE
193 acres of forested preserve featuring Cherry Creek and two walking loops. Protects Cherry Creek.
An 8-mile trail network featuring wildlife and two lakes. Protects Egypt Creek and Lackawaxen River.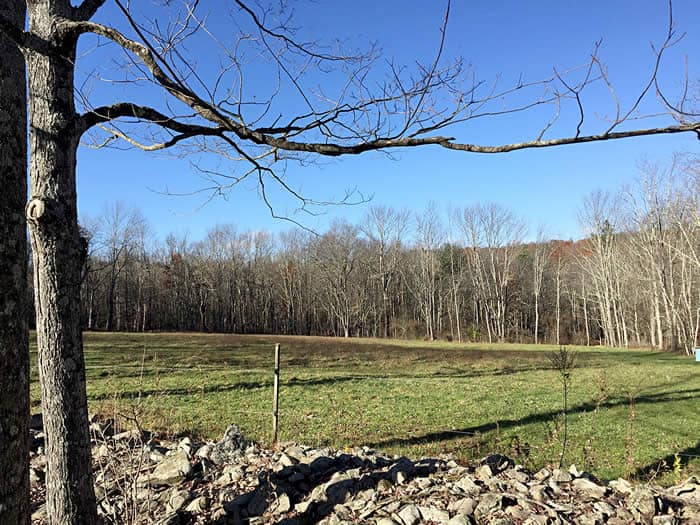 A family farm preserved in Paradise Township. Protects Forest Hills Run.
Read about how a conservation easement can make a difference: click here.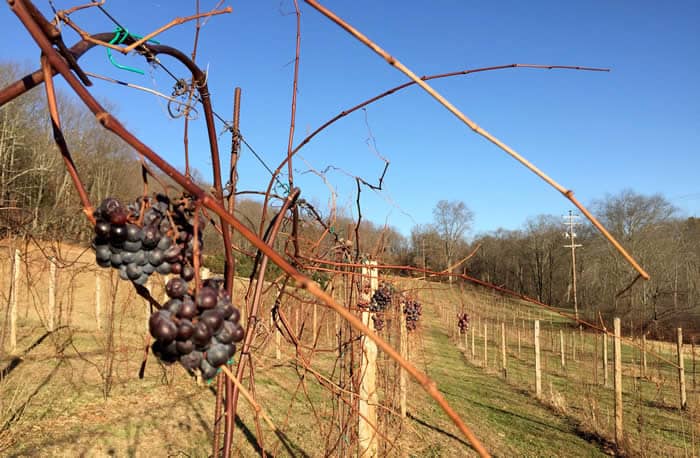 A family farm that produces Christmas trees and wine will be preserved for perpetuity in Cherry Valley. Read about how a conservation easement can make a difference: click here.
Protects Cherry Creek.
As we hike through the Poconos, let's give a thought to the imperiled golden-winged warbler and a nod to the landowners who make a point to provide habitat.
MAKING CONNECTIONS: TRAILBLAZERS
IN MONROE
With trails scattered throughout the county, many would-be walkers don't know where to start.
What if existing trails could be linked, with access and parking at clearly marked trailheads in every township? More — what if our trail system could be linked to networks of trails beyond? What if you could bike, say, from Delaware Water Gap to the Portland footbridge — even all the way to the Statue of Liberty?
That's not a pipe dream. Read more about the trail plans here.
INDOOR ADVENTURE: ESU'S SCHISLER MUSEUM
In the span of an hour at the Schisler Museum at East Stroudsburg University, visitors can tour the Frozen North, a Boreal Forest, Canyon Country, the Verdant East, and the African Bush.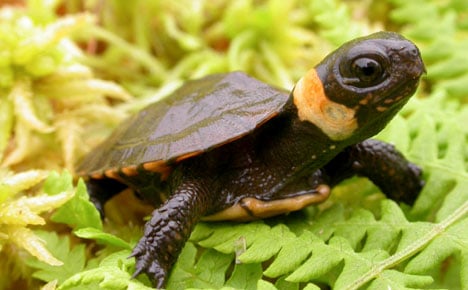 TURTLE HABITAT IN CHERRY VALLEY
Private, protected land that protects colonies of the rare bog turtle.
HOW A COMMUNITY CHANGED CHERRY VALLEY
Years of dedication created a refuge that protects wildlife as well as Cherry Creek headwaters.
Take a hike atop Mount Wismer in Barrett Township to get inspired … and then take action. Click here for more.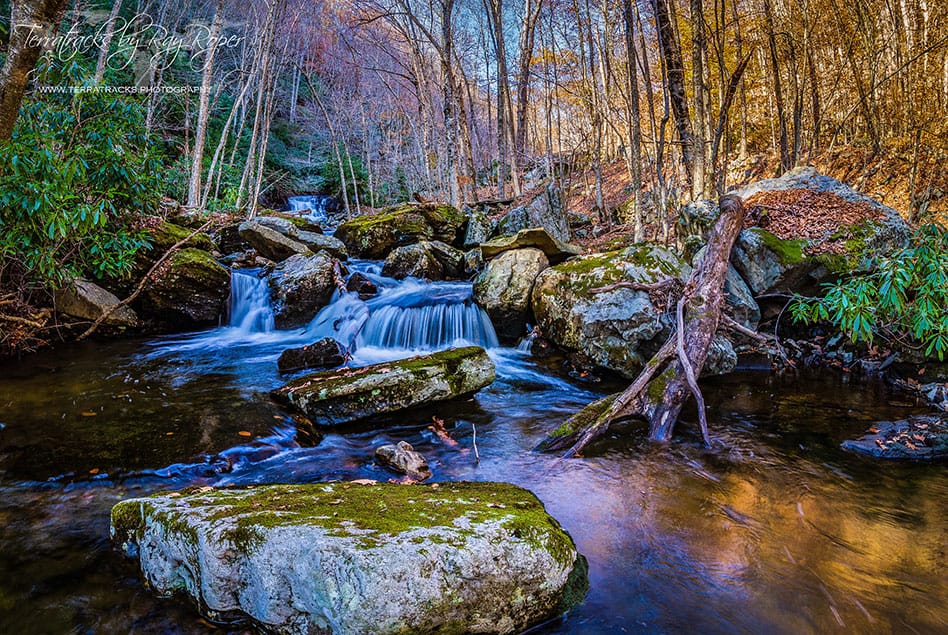 How waterfalls — a favorite among photographers — are actually "gifts from a glacier." Click here for more.
FAMILY FARM CARBON PROGRAM
The Family Forest Carbon Program is a win for people who own forested land they love, for companies committed to reducing their carbon footprint, and for doing something meaningful about climate change. Read about it here.