Leashed dogs whose owners clean up after them are welcome.
No facilities. Pack out what you pack in.
Hauser Nature Center is open 9 a.m. to 5 p.m. Call 570-643-7922 for information.

Tamarack is also known as larch and hackmatack. It is a deciduous conifer that turns bright yellow in fall and drops its needles, to be replaced in spring by a new flush of soft green needles.

Waterfalls that get their start on the plateau include Indian Ladder Falls, Spruce Mountain Run Falls, Buck Hill Falls, Rattlesnake Falls, the falls on Tank Creek and Yankee Run, Devil's Hole Creek Falls, and Falls Creek Falls.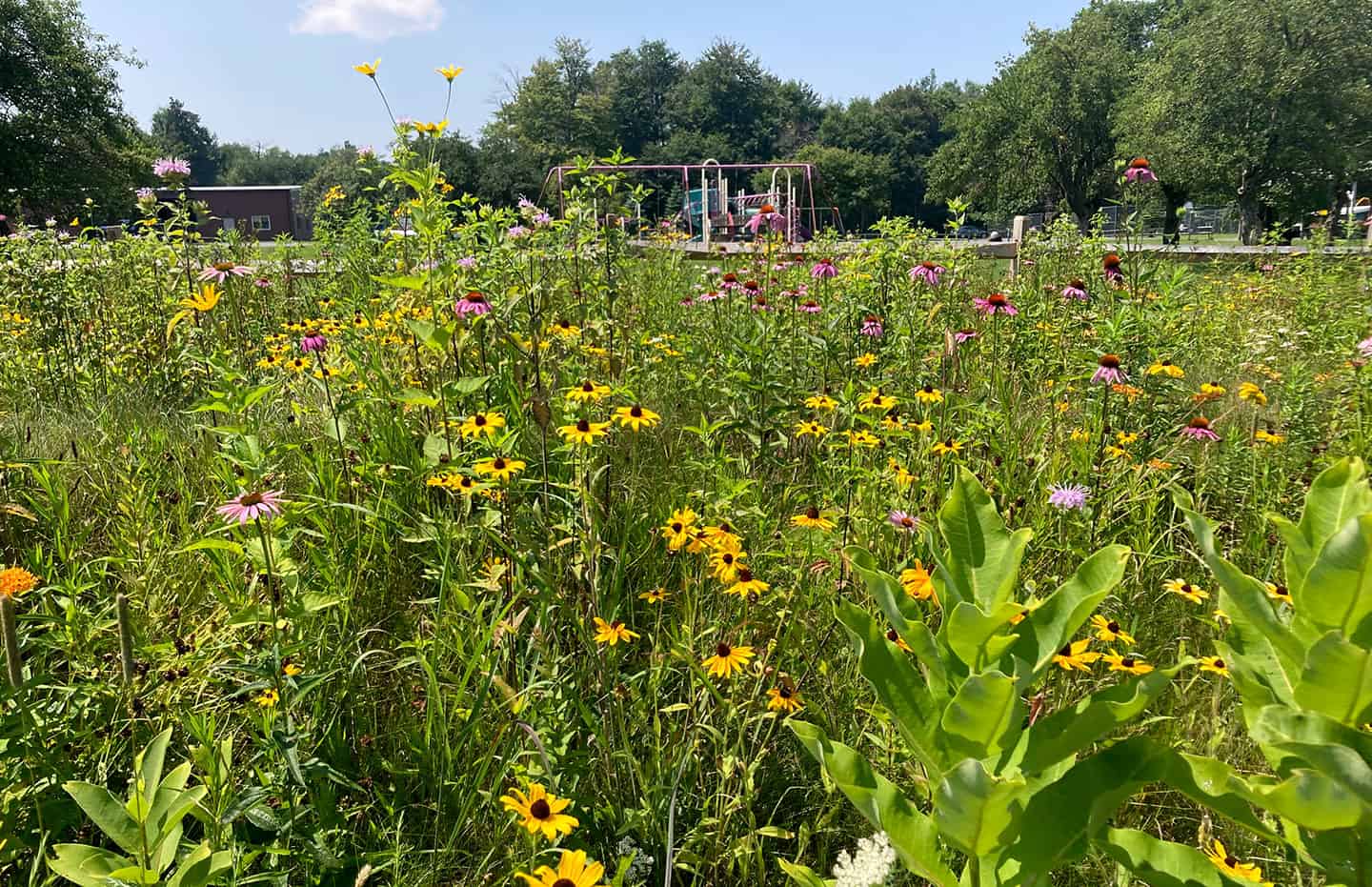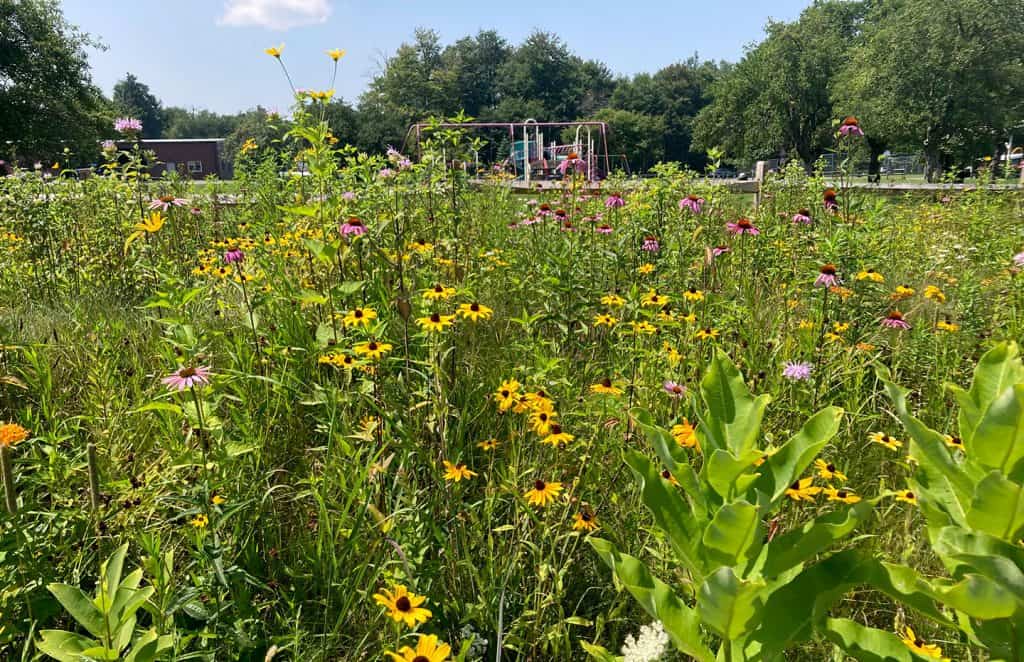 Beyond the wildflower garden is a playground the kids will love.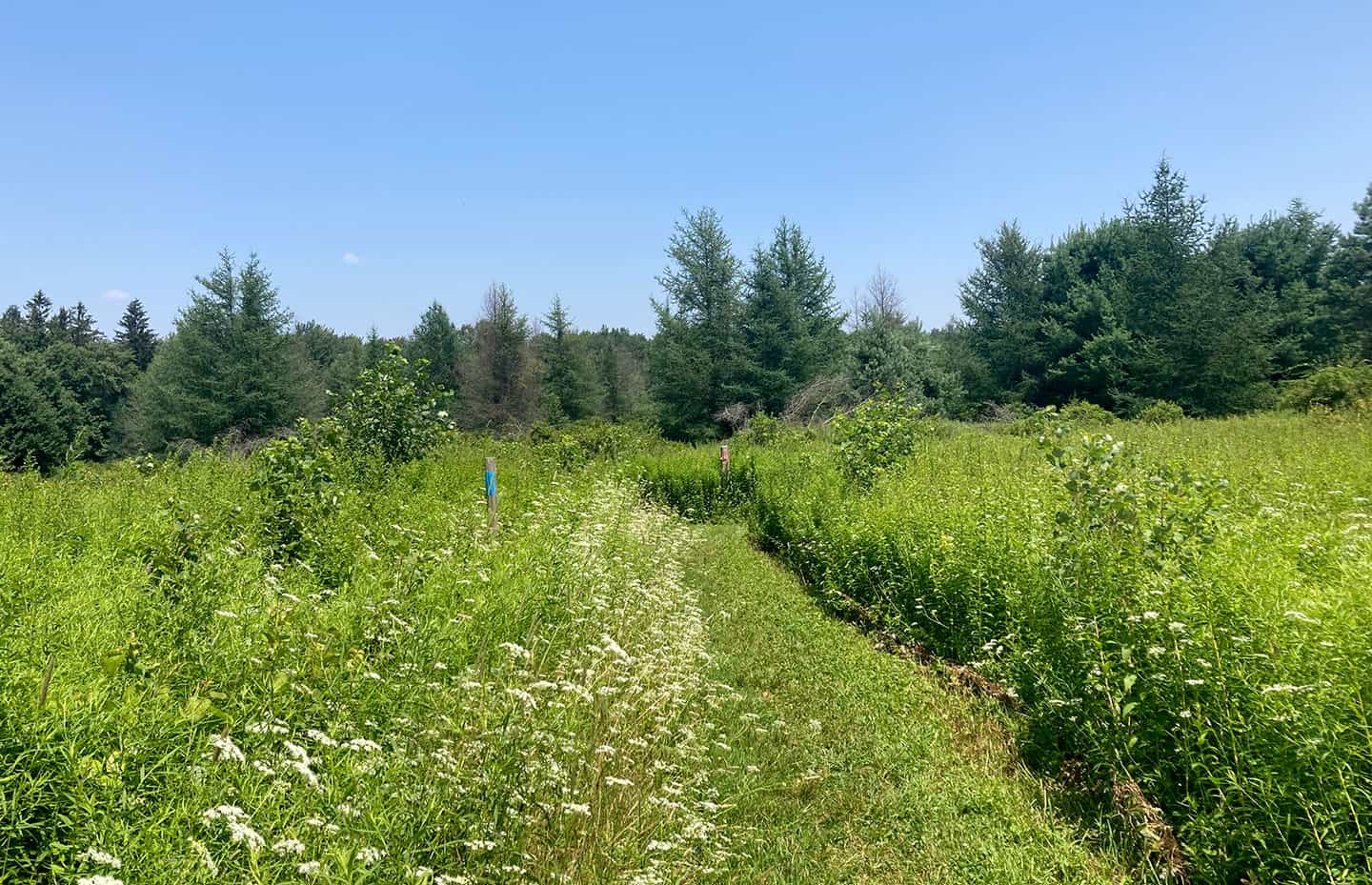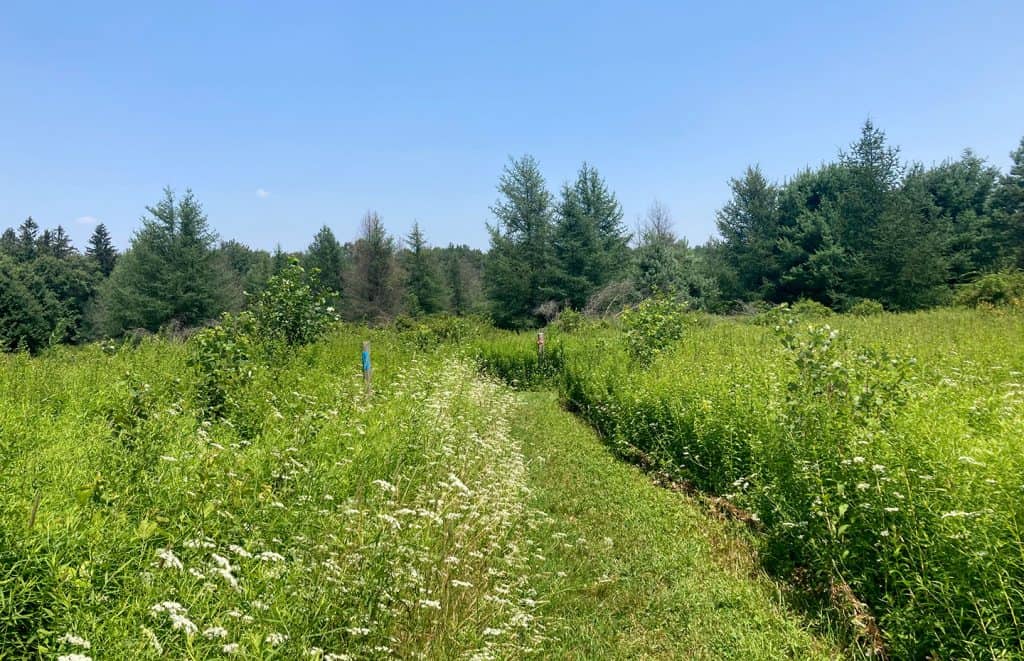 The paths are well maintained.
Walk along a wetlands trail
Editor's note: "Woods & Water" is an occasional feature focusing on the relation between land and water quality – and the conservation easements that help preserve our environment in the Brodhead watershed.
By Carol Hillestad
For Brodhead Watershed Association
I used to drive to Scranton and back a couple times a week. Merging onto Route 380 North, I saw the steep, tree-covered stretch behind me giving way to terrain as flat as Iowa, with low shrubs and cattails, wetlands and open water in every direction.
This is the Pocono Plateau, elevation 2,000 feet, which holds water like an enormous, flat sponge. On the map, it even looks spongy — a vast network of soft ground colonized by water-loving plants, pocked with silvery marshes, lazy rills and runs, and punctuated with beaver lodges and glacier-dropped boulders in a wide, watery landscape.
Haunting. Mysterious. And a water source that feeds both Tobyhanna Creek as it meanders to the Lehigh River, and every waterfall that drops off the escarpment on its way to Brodhead Creek and the Delaware River.
Though it's never far below the surface, the water doesn't break through everywhere on the Plateau. Housing, schools, and businesses have all been built here.  
Trails, too. One sunny summer day, I set off for a trail in Long Pond that I'd heard about for years.
The trailhead for Cathy's Trail sits behind Hauser Nature Center. It's named for Cathy Ritter, a dedicated Nature Conservancy volunteer. 
The kiosk was flanked by eye-popping colors of wildflowers in bloom, buzzing with pollinators. A mowed path skirted the edge of a ball field on the way to the trail, clearly marked and blazed. 
The meadow before me was dazzling in the blazing afternoon, full of goldenrod and high-bush blueberries, with tamarack trees squaring the edges. I helped myself to ripe blueberries, following the west side of the meadow. 
As I entered an opening in the trees I felt a chill — of cooler air, but also of awe. These woods are dark and deep, mythic, somehow otherworldly. 
According to the map, I was winding through a boreal coniferous swamp, a natural environment more often found in Canada. Though still firm, the trail began to feel spongy, and water-loving plants like sphagnum moss were underfoot. Tree roots matted the trail surface. Grand old hemlocks, black gum tupelos, and 10-foot-tall rhododendrons were my companions, along with ferns and club mosses. 
When I reached the halfway point at the north edge of the trail, a boulder field appeared. Not the car-sized boulders found in some boulder fields, but a witness remnant, nevertheless, of the glacier's retreat from Pennsylvania 10,000 years ago.
From here the trail starts to loop back, leading through a remarkable red spruce forest. Red spruce generally prefer colder climates, though they are found at higher elevations, like this, along the Appalachians into North Carolina. 
With the forest gradually changing to a more typical mixed hardwood forest, the path ahead became brighter — and suddenly I was out of the woods and back at the tamarack meadow where I'd started.
Driving home, my head was full of the idea that the forest I'd just explored was floating — floating on water that I know well where it becomes the waterfalls of the Brodhead watershed, dropping hundreds of feet off the escarpment. 
Not actually floating, of course. But connected, as all of nature is — one of the infinite connections that we disdain at our peril.
Carol Hillestad is a hike leader and writer for Get Outdoors Poconos, a grant-funded series administered by Brodhead Watershed Association. The series is administered by Brodhead Watershed Association and supported by a grant from the William Penn Foundation.
Comments from other hikers:
Be the first to add your comment for this hike.
Share your experiences of this trail -- what you saw, how you liked it: