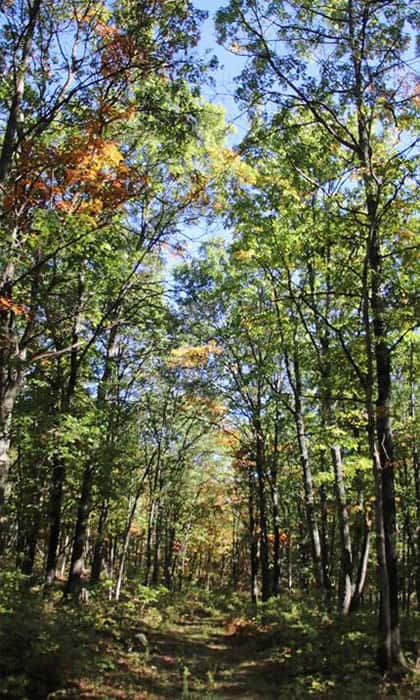 Where: In Monroe County, Pa., straddling Paradise and Price townships. There are two entrances, about 6 miles apart.
Henry's Crossing trailhead in Paradise Township: Take Route 191 to Cranberry Creek Road. Turn onto Henry's Crossing Road and head north, crossing the railroad tracks. Turn right at a small green sign – "Preserve Parking" – to enter the parking lot.
Eastern side (where the waterfalls are): Exit the Paradise Price Preserve trailhead and turn right onto Henry's Crossing Road. Take the first right onto Clark Road. Follow Clark Road downhill to a stop sign on Route 447. Go right on Route 447 for 1.5 miles. Parking area is on the right, just past a small bridge over Stony Run.
GPS coordinates:
For Henry's Crossing trailhead: 41.132810, -75.263699.
For eastern side of the preserve: 41.127816, -75.230916
Trail information: Trail are not yet blazed. Many trails and woods roads crisscross the preserve. Work is underway to link existing trails to form larger loops. The two trails described below are easy and excellent for beginners, seniors and families.


Picnic pavilion on the eastern side (off Route 447).
Catch-and-release fly fishing in season with valid Pennsylvania license.
Dogs and their well-behaved owners are welcome. Pick up and carry out waste.
No restroom or trash facilities — please pack out whatever you pack in.
No camping or swimming.
Some trails are rocky. Wear sturdy footwear, take water, and make sure someone knows where you are and when you will return.
Important! Paradise and Price townships intend to permit hunting on the preserve. Always wear orange during hunting seasons.
Get off the treadmill and into the woods at Paradise-Price Preserve
There's a reason treadmills dominate floor space at gyms: Walking is good for you.
Walking puts muscles to work from head to toe. It gets your heart pumping and your blood moving. Walking improves balance, strengthens bones, and cuts risk of everything from heart disease to cancer. It's even good for your brain.
But, really – walking on a treadmill? Boring! Walking a path through the woods beats the treadmill by a mile.
Paradise-Price Preserve offers woods-walking you can do no matter your fitness level. Maybe you just want to take your time and enjoy a view of open woodlands, blueberry bushes and boulders. The preserve provides a very easy, wide and grassy stroll that leads from the trailhead through a sunny forest of mixed hardwoods, to a glacial split-rock boulder as big as an elephant. This trail is about a mile round-trip, with only the gentlest of dips and rises. On a cool and sunny day in mid-fall, light seems to fill the air around you like a tangible thing. Slow, deep breaths come naturally. You'll feel your neck and shoulders relax. You'll probably start to smile.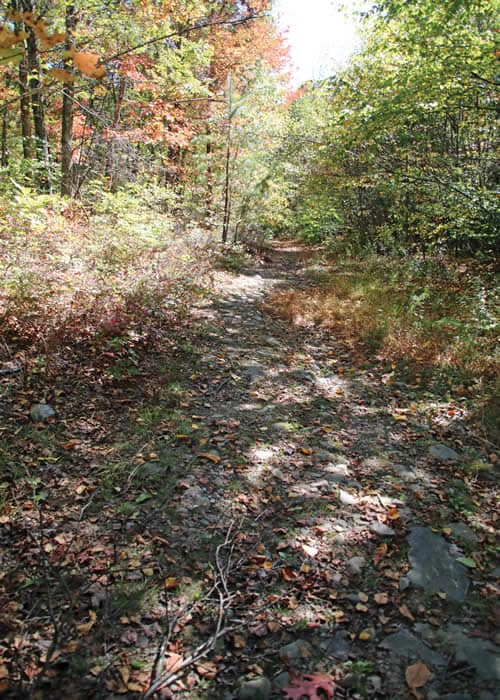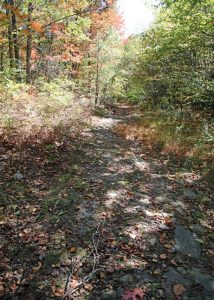 For times when you want a real workout, there's a 2-mile trail that parallels the preserve's southern boundary. If you take it out and back from the trailhead, you get three short, steep climbs and descents each way, with lots of rock underfoot. You'll be breathing hard in a hurry, and will need to concentrate on footing and balance.
Either way, the best is yet to come. A six-minute drive over the ridge takes you to the eastern boundary of the preserve, with a glorious stretch of Brodhead Creek. Upstream, you'll see the only natural waterfall on the Brodhead, a shining and picturesque horseshoe falls. A short trail downstream through large white pines leads to trout pools, exposed bedrock, and evidence of beavers in the bank and in the stream. An eagle may swoop by.
The 777-acre Paradise-Price Preserve straddles the divide between the Brodhead and Paradise watersheds, protecting the water quality of both. The preserve was bought in 2011, paid for by the voters of Paradise Township, the state Department of Conservation and Natural Resources, and the Monroe County Open Space bond, with assistance from Price Township and Pocono Heritage Land Trust.
A third of a mile of Brodhead Creek is protected here, helping to safeguard drinking water for thousands of people downstream — and giving access to this world-class trout stream to all. On the upland part of the preserve, vernal pools provide spring breeding places for frogs and salamanders, wetlands hold water during rainy seasons and prevent downstream erosion and flooding, and countless small rills, runs and tributaries flow from the ridge to the larger streams below.
In addition to the two trails described here, many trails and woods roads crisscross the preserve. Work is underway to link existing trails to form larger loops — including a footpath to a waterfall overlook — and to connect with nearby preserves. Get off the treadmill! You'll never be bored at Paradise-Price Preserve.
Carol Hillestad is a hike leader and writer for Get Outdoors Poconos, a grant-funded series administered by Brodhead Watershed Association.
Comments from other hikers:
Be the first to add your comment for this hike.
Share your experiences of this trail -- what you saw, how you liked it: