Where: In Paradise Township, Pa. Go to 5708 Paradise Valley Road; GPS 41.116608, -75.270339. A smaller trailhead is at 309 Cranberry Creek Road.
Trail information: Entrance is paved for a short way. Trails are blazed in yellow, some with black directional arrows. Trails are both single track and wide woods roads, and are a mixture of boggy, roots and rocks, and wide, smooth and grassy. Caution: Many stumps and snags in some sections of trail.

Paradise Township created Paradise Discovery Park using funds that citizens of the township voted to set aside for green space in the 1990s. In addition to being a resource for children and families, this space provides a second trailhead for access to Van Buskirk Preserve. 

The loop described here is about 1.75 miles. Many other combinations are possible. 

Leashed dogs welcome. Hunting is allowed in season; always wear fluorescent orange. 

Wear sturdy footwear. Hike with a buddy, take a map and water, and let someone know where you are going and when you will be back.
No restrooms or trash containers. Pack out what you pack in. 
An unnamed intermittent tributary of Paradise Creek runs along the boundary of the property, under Route 191, into the grounds of Paradise Brook Trout Company.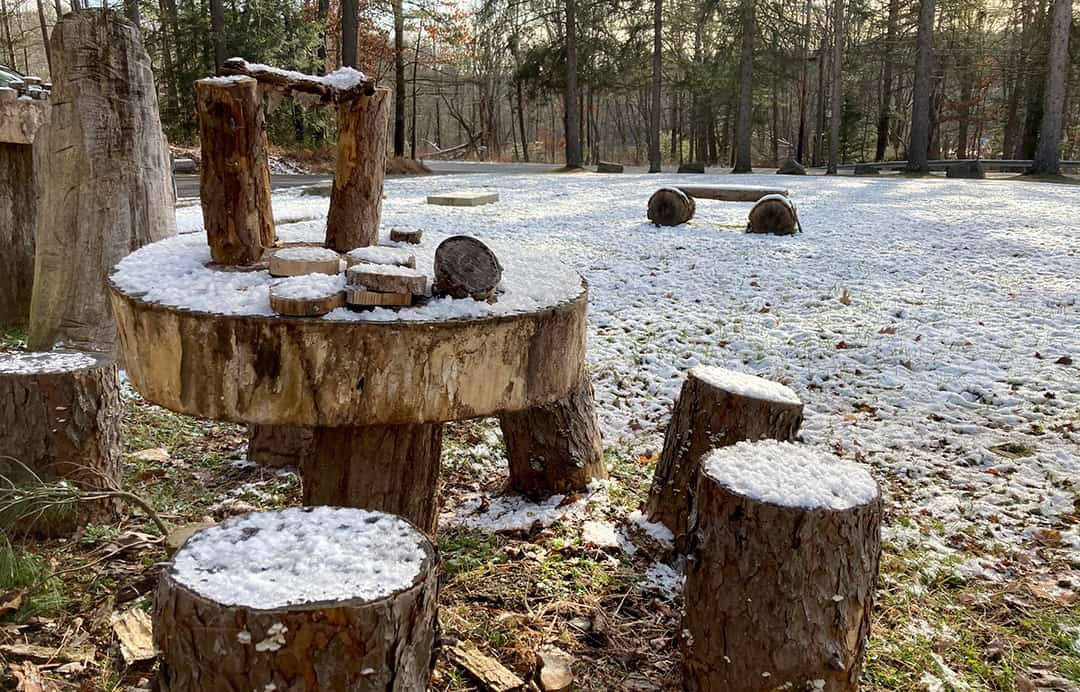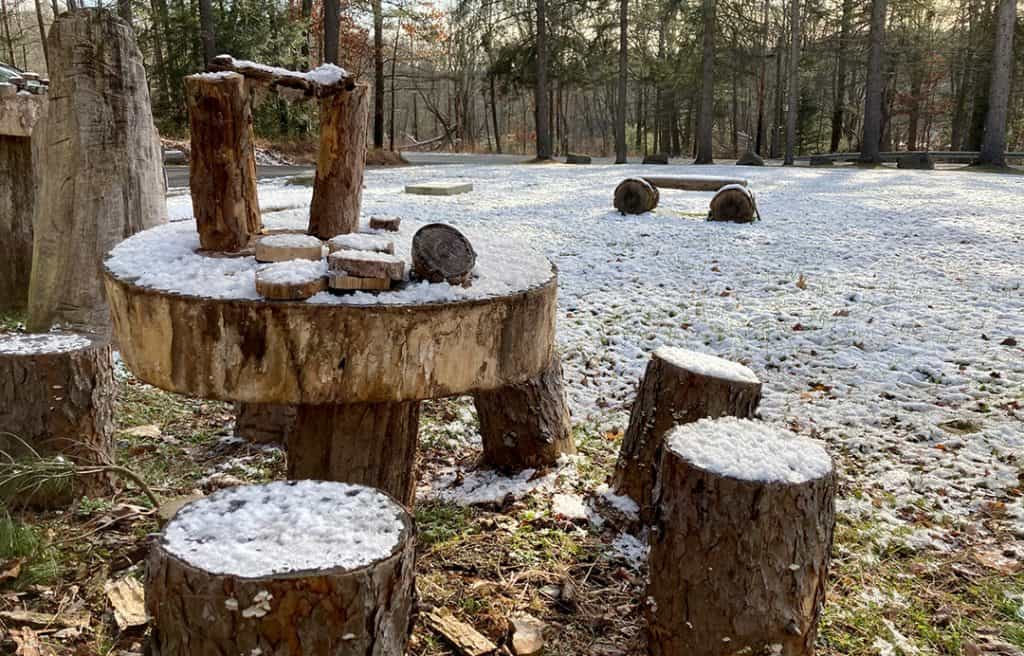 Paradise Discovery Park is a nature-play space with features to encourage imaginative play.
Rough-hewn natural objects and fresh air are a great combination for active kids.
Discover this park in Paradise with your family
Opportunities for getting outside are everywhere in the Poconos. Few are easier to find than Paradise Discovery Park, a nature-play space on Route 191 in Paradise Valley.
No plastic swings or manmade climbing walls here. Instead, kids climb and explore in the natural world — boulders and rocks, a log bridge, a circle of timber stakes they can imagine into a tipi, fort, pirate hideaway or igloo. And of course, the woods.
The woods are where I'm headed on a cold afternoon in early winter.
The park is only about six acres, but it backs up on the 80-acre Van Buskirk Preserve – a place I know well. The yellow-blazed trails here take you in the "backdoor" of the preserve. 
Beyond the rustic log crossing, the left-hand fork in the trail trends uphill, over the crest of the ridge. Just where the trail starts down the other side, I start looking for an unmarked spur to the left. In winter, it's fairly easy to find – a rough path over outcrops of red shale, formerly quarried here. At this elevation on red rock, I know I'll find pitch pine, scrub oaks, and lots of different lichens: pixie cup, British soldier, reindeer moss. 
And there's even a view. In summer, foliage obscures it. Now, I can pick out the line of white pines where Cranberry Creek flows down below, and toward the horizon, the next ridge line of the Brodhead Creek valley.
Much of the forested land as far as the eye can see had once been intended for housing developments. Instead, thanks to townships, voters, individual landowners, the state, and a local land trust, the forest is pretty much intact. 
And that's a big deal! In a year, one single acre of forest can absorb twice the CO₂ produced by a year's worth of driving … create enough oxygen for 18 people … intercept three million gallons of stormwater … and remove pollution like toxic heavy metals, pesticides, solvents, and oils from soil and water.
All that, and soul-stirring, too.
Back on the trail, I pass the remains of a family farm, with its overgrown apple and pear trees and a piece of abandoned farm equipment as eloquent as a sculpture. In spring, the old quarry becomes a lively vernal pool, hopping with toads, frogs, and salamanders of every description. 
With the farm at my back, I take the woods road, following a lovely old stone row. I can hear Cranberry Creek rushing down below. All this forested land protects the creek water, too — keeps it pure, cold, and safe for wildlife and native trout as it heads toward the Paradise and Brodhead creeks, on the way to the Delaware River and Atlantic Ocean. It's not far to the bank of the creek, but with the light getting low, that's a hike for another day.
Sometime when you're driving through Paradise Valley, why not stop and get to know this place? And any time you head into the woods, I hope you'll heed what's going on silently around you, in trees and forest, protecting air, water, and the living natural home we all share.
Carol Hillestad of Cresco is a writer and hike leader for Get Outdoors Poconos, a free hike series administered by Brodhead Watershed Association.
Photos by Carol Hillestad
Comments from other hikers:
Be the first to add your comment for this hike.
Share your experiences of this trail -- what you saw, how you liked it: