Where: Take Route 191 to Paradise Township. Turn onto Browns Hill Road. At the crest of the hill, turn left onto Alpine Road. Follow Alpine to the parking area cul-de-sac. Be careful not to block nearby driveways.
GPS coordinates for cul-de-sac: 41.117779, -75.249659
Trail information: No established trails or blazes. Overgrown woods roads are level, with some rocky footing.

The preserve has not yet been mapped and the trails are not yet blazed. For safety, hike with a buddy, take water, and make sure someone knows where you are going and when you are expected back.
Extensive woods roads crisscross the property.
No restrooms or trash cans. Pack out whatever you pack in.
Please be respectful of nearby homeowners.
Explore a newly preserved piece of Paradise
High on the ridge that separates Brodhead Creek and Cranberry Creek is a neighborhood of tidy homes. From the road, through the leafless trees, long views overlook Paradise Township and the folded valleys of the Cranberry, Paradise and Swiftwater creeks.
It was afternoon, just before the shortest day of the year in December — cold, bright and clear. My goal was the cul-de-sac at the end of this road, the trailhead for Paradise's newest preserve. Paradise Township only recently acquired the land, and there's no sign at the trailhead yet, just a length of chain between two trees where a woods road begins.
There are no established trails, either, or blazes. But the township bought this land because its 144 acres border Paradise Price Preserve – land I know fairly well. So I set off on one of the overgrown woods roads, headed in what seemed the right direction.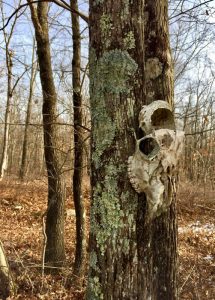 I was welcomed by a screaming blue jay and skittish flock of juncos, flitting along at ground level. A hawk sailed silently overhead, landing on a nearby oak snag, one of the thousands of oaks killed by gypsy moths along this ridge a few years back. Blueberry bushes and oak saplings fill in among the remaining open forest of mixed hardwoods.
Most of the mature trees are the same size – evidence that this land was cleared, likely during the last Pennsylvania clear-cutting. There are very few glacier-dropped boulders, but as I move along the trail, I notice stretches of glacial debris, including one enormous rock cairn 20 feet high and a football field long.
The trail was level, and the footing was rocky with chunks and slabs of bluestone. The closer I get to Paradise Price Preserve and the marshes along its eastern edge, the wetter it becomes. Ruts are filled with water and a thin skim of ice. At one point the trail looks more like a vernal pool.
All this water eventually makes its way to Brodhead Creek. From the high point of the ridge, some flows east, directly toward the Brodhead. Water also sheds westward toward the clear and pure Cranberry Creek, then joins Paradise Creek, which in turn joins the Brodhead downstream, near where the Stites Mountain Tunnel is being repaired. Keeping this open woodland undeveloped protects pure, abundant drinking water for thousands of people in our community, and for millions more downstream.
I'd been lucky in choosing my direction, and suddenly I knew exactly where I was, on the eastern edge of Paradise Price Preserve. The trail to my right leads down to Brodhead Creek and Targa Falls. More exploring took me to the high point of the ridge, at 1,100 feet, a small clearing of red rock, scrub oak, and abundant reindeer moss and other lichens.
This conserved forest gives hundreds of nearby residents easy access to the outdoor life — our heritage, safeguarded for us, our kids and grandkids. We all owe heartfelt thanks to the voters of Paradise, Barrett and other townships, the county and state, Pocono Heritage Land Trust, and volunteers who make it possible.
And more: This is one end of a greenway whose trails connect many public lands. It runs 4 miles as the crow flies along the ridge, across Henry's Crossing Road, northwest toward Route 390 in Cresco, near state game lands. But that's a hike for another day!
Carol Hillestad is a hike leader and writer for Get Outdoors Poconos, a grant-funded series administered by Brodhead Watershed Association.
Comments from other hikers:
Be the first to add your comment for this hike.
Share your experiences of this trail -- what you saw, how you liked it: