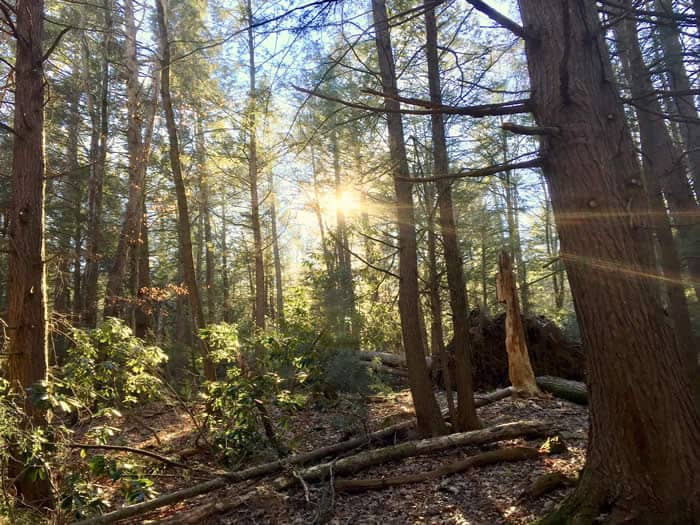 Where: Parking area is on Pasold Farm Drive (off Spruce Cabin Road in Canadensis). Take Route 447 to Spruce Cabin Road. Go 50 feet, cross the bridge. Pasold Farm Drive is on your right. Parking for up to eight cars. The trail is blazed in blue and starts to the right of the information sign.
GPS coordinates: 41-10.735N, 75-15.072W
Trail information: The trail is blazed in blue, steep in some sections, and often wet; a moderate loop of about a mile. A map is posted at the trailhead.

No restrooms or trash cans.
Please be respectful of nearby property owners.
In summer, a community garden near the Brodhead is open to residents of Barrett Township.
Fishing allowed in season with proper license. Catch and release encouraged.
A walk in the flow of time and water
The first group hike I ever led was at Pasold Farm, in Barrett Township, along Brodhead Creek. After scouting the trail in May, I didn't have the sense to go back and check it out again before the hike, set for mid-July.
By that time, the ferns were shoulder high. The trail was running with water. Downed logs had to be clambered over. Mosquitos swarmed in the heat. Twenty hikers, including a teen wearing flip-flops, valiantly made the best of things. My face still burns at the thought.
Like a flowing creek, trails are never the same twice. A winter walk at Pasold with naturalist Patti O'Keefe is an entirely different experience.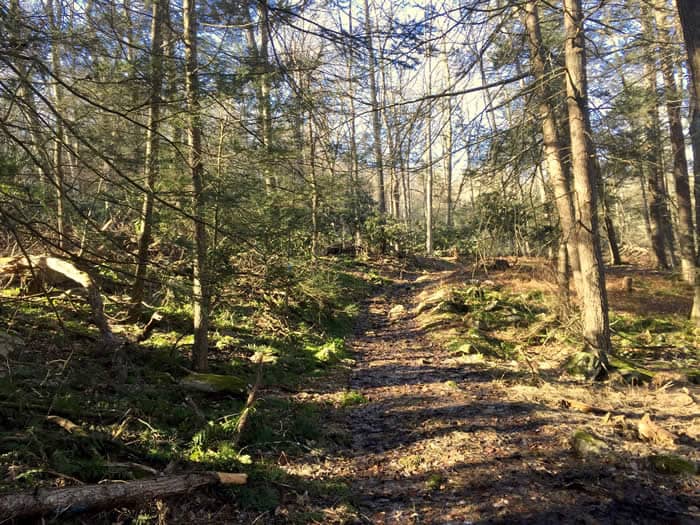 The trail loop is only about a mile. You could do it in 20 minutes if you hustled. But what a mistake that would be, especially in winter.
The low, near-solstice sun paints the leafless trees and their lanky shadows gold and black. You see long views of the land, its folds and rises. The trail, newly widened, is wet after record-breaking rains. Dozens of trees brought down in last winter's storms have been cleared, but many remain tangled where they fell.
Through woods on either side, you see elephant-sized boulders with lichen and ferns growing from every crevice, like crazy-big Chia pets. Many of them are slowly being split by white pine seedlings, their thread-like roots working into microscopic fissures, the finest of filaments able to crack ancient rock.
As the Wisconsin glacier receded 10,000 years ago leaving these boulders behind, the earth was scraped down to bedrock. Patti points out the exposed rock ledges the trail follows, as smooth as any paved sidewalk.
The spring that once served Pasold Farm is beautifully preserved, and there's no risk of missing the spot, now that a hand-carved sign points the way. Water rises from among the roots of an old oak and is tamed in a square, manmade pool.
Like all the water here, this filters through the earth from marshes and wetlands high on the Canadensis hill. The spring water, along with water from countless seeps and rills throughout the property, finds its way downhill to join Brodhead Creek. This pure, cold creek water borders Route 447 for miles, joins Paradise Creek upstream from Analomink and enters the Delaware River near the I-80 bridge. Along the way, it becomes drinking water for thousands of people in Monroe County — and millions more downstream, before reaching the Atlantic Ocean.
Flyfishing in America began on the Brodhead. It is still considered one of the finest trout streams in the world. Thanks to the people of Barrett Township who conserved this land, fishing this historic stream is open to all.
It's a short winter day and the shadows are suddenly much longer as Patti and I walk the gravel road that borders the creek, back to our cars. My head is full of the day's finds — brilliant red crustose lichen, a natural grapevine swing, fresh coyote scat, banks of rhododendrons, emerald mosses and rushing waters … and memories of a steamy day in July.
Carol Hillestad is a hike leader and writer for Get Outdoors Poconos, a grant-funded series administered by Brodhead Watershed Association.
Comments from other hikers:
KAREN of East Stroudsburg: Home from the hike and it was so enjoyable. Thank you so much.
JAN & RICH of Canadensis: A wonderful winter walk! We enjoyed walking the beautiful trail.
Share your experiences of this trail -- what you saw, how you liked it: