Drainage Area: 312 square miles
Monroe County, PA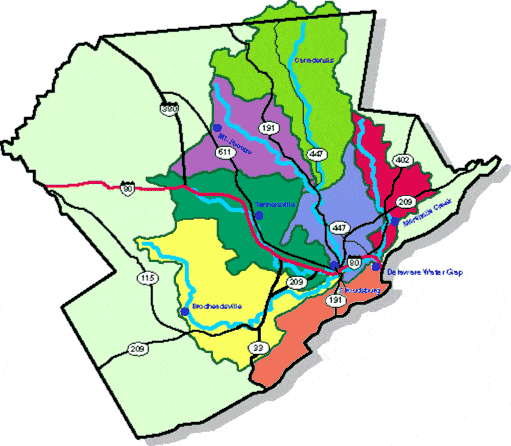 Cherry Creek
Lower Brodhead
Marshalls Creek
McMichael Creek
Paradise Creek
Pocono Creek
Upper Brodhead
Cherry Creek
The Cherry Creek Subwatershed
Drainage Area: 30.5 square miles
Brodhead Watershed, Monroe County, PA
Lower Brodhead
Marshalls Creek
McMichael Creek
Paradise Creek
Pocono Creek
Upper Brodhead
THE AMERICAN HERITAGE DICTIONARY DEFINES WATERSHED AS: "THE REGION OR AREA THAT DRAINS INTO A BODY OF WATER."
You could say that a watershed is a creek and all the land around it.
Some people refer to watersheds as drainage basins.
A watershed ultimately connects the communities within it through their common dependence on water resources.
Our flowing creeks and streams are perhaps the best barometer of how well we accept stewardship of the land on which we live.
Learn More- Browse the BRODHEAD WATERSHED RIVER CONSERVATION PLAN
DO YOU HAVE A STREAM ON YOUR PROPERTY?
Learn how to maintain it properly with THIS EASY GUIDE from the Pennsylvania DEP.