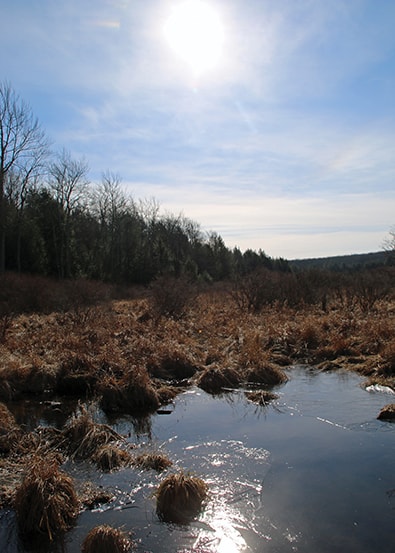 Where: Promised Land State Park is 10 miles north of Canadensis, on Route 390 in Pike County, Pa.
GPS coordinates: 41-18.090N, 75-11.909W
Trail information: All trails in Promised Land State Park have blue blazes. Trail intersections are marked with white way-finding signs, keyed to an excellent map of the park, available at the park office. For a web-ready version, click the "trail map" button below.
Trails are often rocky and may be wet. Sturdy, appropriate footwear is essential.
The loop described here crosses from the state park into Delaware State Forest, where the blue blazes continue, and back into the park.


Promised Land State Park is designated one of 25 "must-see" state parks in Pennsylvania.
Hike with a buddy and make sure someone knows when you left and when you will return.
Promised Land State Park offers hiking, snowshoeing, snowmobiling, cross-country skiing, swimming, boating, hunting, geocaching, picnicking and camping. An active eagles' nest can be seen at the Wildlife Observation Station.
Dogs are welcome, but they must be on a 6-foot leash. Owners must clean up and carry out pet waste.
Off the beaten path at Promised Land
Ann Foster is a person of boundless talents. Flyfisher and equestrian. Mother and outdoorswoman. Head of Brodhead Watershed Association and clinical research nurse. Her summers have been spent roaming the trails of Promised Land State Park, where biology and beauty intersect, and she knows those trails "better than I know my own children," she says.
To get us a little off the beaten path, Ann recommends a 2.5-mile loop starting at the Snow Shanty Boat Mooring Area, off Pickerel Point Road in the Pike County park. To find the trail, we park our cars at the mooring area and head back up the blacktopped road. Just on the other side of Snow Shanty Creek, the trail cuts in to the left, at marker 89 on one of the park's white way-finding stakes.
It's the end of January, just one week after a major snowfall. At first, the single-file trail leads through untouched snow, but soon the tracks of a recent snowshoer make following the blue blazes easy.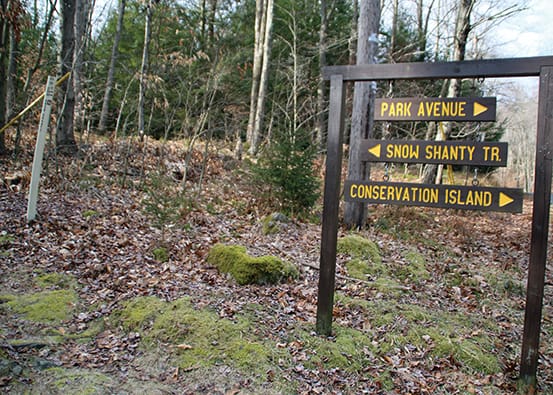 These woods are a mix of several kinds of oak, maple, healthy hemlocks and spruces, and hundreds of beech sprouts, all etched against the brilliant snow. The only sounds are of crunching snow and our own breathing, and we try to imagine these woods two months from now, with spring snowmelt underfoot, amphibians starting to stir, and the chance to spy eagles foraging to feed their nestlings.
The often-rocky trail winds through many different terrains, uphill and down, passing from mixed hardwood forests to high-bush blueberries crowding around. At the next trail intersection, we reach the Burley Inlet woods road, where the snowshoer's tracks are overridden by a snowmobiler and the walking gets easy. Turning left, following the road, a deer exclosure of tall, woven wire becomes our left-hand boundary.
Intended to keep deer from mowing down young saplings, the exclosure is one of many managed by the Pennsylvania Bureau of Forestry. As the forest regenerates and established trees take over, exclosures are dismantled and moved. Though deer are kept out, grouse, rabbits, fox, and other small creatures abound here, rustling in the underbrush.
The woods road and the trail diverge at way-finding stake 85. The snowmobile and snowshoe tracks are long gone, but deer tracks lead the way up a short, steep climb to an exposed rock ridge and an otherworldly scene — a rockscape of head-high boulders, dropped and tumbled and left behind with the ebbing of the last glacier.
Mixed hardwood trees now give way to a tunnel of black-green hemlocks running steeply downhill, toward the sound of rushing water. Many acres of swampy, ephemeral wetlands to the left show the remains of beaver activity. The outlet from the wetland is crossed by a simple wooden bridge over the bubbling water of Snow Shanty Run.
Just a few more minutes of the hike remain before hitting Pickerel Point Road — and civilization — again. But that's enough time to feel grateful that this land and rocks and all the wilderness and wildlife of almost 3,000 acres belong to us all, open to everyone. When the snow melts in spring and percolates into the ground, recharging creeks and groundwater, protecting drinking water and the mighty Delaware River, we promise ourselves, "We'll be back."
Carol Hillestad is a hike leader and writer for Get Outdoors Poconos, a grant-funded series ad-ministered by Brodhead Watershed Association.
Comments from other hikers:
LORRAINE & RANDY: Thank you for leading us on such an interesting hike! Just wanted to let you know afterwards we drove over to the wildlife observation spot on Lower Lake and caught a glimpse of the eagle couple flying to and from their nest! What an awesome way to top off the day!
Share your experiences of this trail -- what you saw, how you liked it: