Alex Jackson, executive director
Alex joined BWA in 2021. He received his bachelor's degree in nutrition from Long Island University in 2008 and graduated with a doctorate in organismal biology from the University of California at Irvine in 2014.
Alex is a naturalist with a focus on old-growth forests and bog & fen ecosystems. Alex has documented and compiled a comprehensive map of old-growth forests in southern Monroe County. 
Alex is also a homestead gardener, avid beekeeper, and habitat restoration enthusiast.  He manages more than 40 colonies throughout Monroe County, and is a honey connoisseur. Alex has a long list of favorite native trees, including tulip poplar, winterberry holly, and black tupelo.  His favorite honey is from the black locust (Robinia pseudoacacia).  
When fly fishing, Alex's favorite haunts are the waterways throughout the upper Lehigh and among the lower Brodhead.
Email alex@brodheadwatershed.org.
Michelle Riley, development associate
Michelle began her role as development associate with BWA in 2018 and is responsible for corporate giving, fundraising, social media, communications, and grants management. 
Michelle is a Stroudsburg native and, after receiving her bachelor's degree from the University of Arizona, made her way back east. After a tenure with the Palisades Parks Conservancy and Trailside Museums & Zoo in the Hudson Valley, she relocated to the Poconos to reside closer to family, and to raise her children along Brodhead Creek in Price Township.
Email michelle@brodheadwatershed.org.
Carol Hillestad, outreach specialist
Carol is a part-time employee since 2017 charged with community outreach. She coordinates monthly walks (or talks) or community engagement events and writes feature stories for BWA. 
Carol is retired from a career in banking communications and resides in Paradise Township with her husband, Jim. When Carol isn't working or volunteering for BWA, she is also a volunteer at Barrett Paradise Friendly Library and other community organizations. 
She graduated from Syracuse University with multiple degrees in romance languages.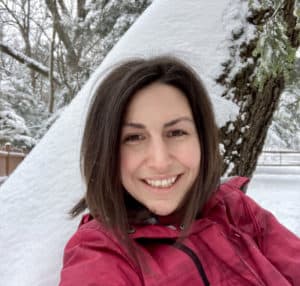 Aimee Kohler, admin/communications specialist
Aimee joined BWA in February 2022. Her role supports BWA staff and board members through recordkeeping and content management.
Aimee has a background in tourism promotion and a bachelor's degree in English from East Stroudsburg University.
A lifelong resident of the Pocono Mountains, Aimee grew up fishing, hiking and wading along local waterways. She now enjoys outdoor adventures with her husband and two children.
Email admin@brodheadwatershed.org.