Become a Steward of Your Local Stream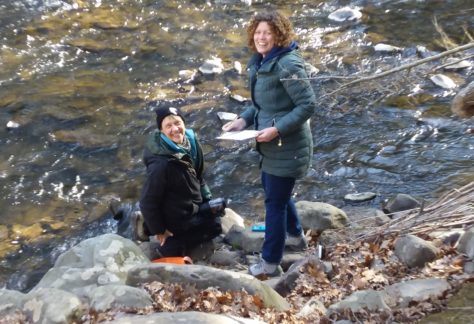 BWA's first and longest running program is the highly successful Volunteer Streamwatch. This program enlists the help of nearly 90 volunteers who monitor and act as stewards of the streams near their homes. Volunteers collect water quality data from one or more sites once a month. The data is entered into a database used to provide a graphic, long-term snapshot of the health of the streams.
The largest benefit of the program, however, is the continued stewardship that volunteers provide by observing the day- to-day changes in their stream. Almost 100 sites are monitored throughout the watershed.
CONDUCTIVITY & CHLORIDE MONITORING PROJECT
Real Time Data from around the Watershed
Automated data loggers ("Mayfly loggers")  are installed around the watershed and transmit data (via a cell phone link) to the MonitorMyWatershed website, where it can be viewed and downloaded to your phone or computer.
View a map of data loggers installed by BWA around the watershed:    BWA Data Loggers   Click on the Pin to see more. 
Visit the MonitorMyWatershed website to explore real time data across the country.
And  explore these loggers installed by East Stroudsburg University
MONROE COUNTY WATER QUALITY REPORTS
Everyone can be a steward.
The steps to take and the proper authority(s) to call when you see what you believe is a problem with a stream.