Eagles Rest farm

Editor's note: Eagles Rest, the Fetherman family farm in Cherry Valley, is private and not open for hiking. This article features its natural wonders as well as the importance of its conservation easement.
A family protects the farming tradition in Cherry Valley
By Carol Hillestad

The house sits by itself, back from the road, settled on a knob above Cherry Creek. Two hundred acres of farmland spread out to the west. Built with native stone by local masons and builders, the house re-uses timbers, siding and other wood salvaged from the farm's old barn. Ridges rise on both sides, giving the house long east-west views of the valley. It seems a peaceful place.
"Peaceful, yes," says Anne Fetherman as she shows a visitor around. "But farming is hard work. And very satisfying!"
Elwood and Hazel Fenner farmed here "forever" she says, raising strawberries and sweet corn to sell from a roadside stand in the mid-20th century. Anne's husband, Red, bought produce from Elwood for years. When Elwood was ready to retire, he told Red, "You should buy this place."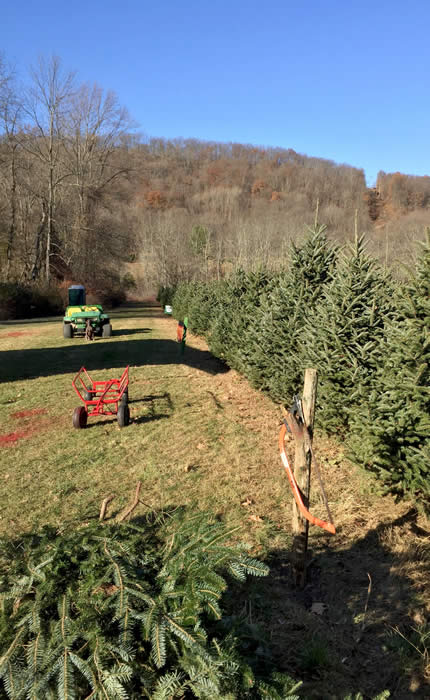 And so he did.
"Red was an international commercial pilot, not a farmer," Anne says. "But he knew how to work. And he loved the idea of keeping this place in agriculture."
Red connected with the Pennsylvania Christmas Tree Growers Association, asked questions, listened, and learned. In 1984, he planted his first fir trees. He started selling them in the early 1990s.
Though life and work had taken Anne and Red far away for many years, they both felt – and still feel – a deep connection to this place. The land is beautiful and fertile, watered by Cherry Creek, which meanders through the farm. In 2005, they put an agricultural easement on the property, keeping it permanently in farmland. Others have protected another 370 acres of adjoining land. Together, this land keeps the waters of the creek safe and pure as they flow toward the Delaware River to become drinking water for millions.
Today, Red's son Royce runs the farm. Like his father, farming was not his first job — Royce served for 25 years in the U.S. Air Force as a C130 navigator.
With diversification in mind for the farm, Royce and his wife, Debra, have added a vineyard and winery to the Christmas tree operation. They started the vineyard in the same way his father started planting trees: studying, asking questions, paying attention, and working hard. The first vines were set in the earth in 2014, and the first, small harvest of grapes was in 2017.
Eagles Rest Cellars will open officially in the spring of 2018. Working with a viniculture expert and cooperating with other vintners in the Poconos, Royce hopes Eagles Rest will eventually be a premier destination on the Pocono Wine Trail. The grapes he chose are adapted for the Pocono area's shorter growing season and colder temperatures. They're growing well.
Though they still live in the house overlooking the creek and land, Red and Anne are less active now on the farm. There is time in every day to absorb the peace and beauty of the valley, knowing that it will all still be here, unchanged – a legacy for generations yet to come.
About Cherry Valley National Wildlife Refuge
The Fetherman farm is in the Cherry Valley National Wildlife Refuge acquisition area. Both the lands and waters of Cherry Valley have been nationally recognized as precious natural resources. The refuge is a well-known migration flyway that concentrates as many as 20,000 migrating hawks and other raptors and more than 140 bird species every fall. For information, see fws.gov/refuge/cherry_valley/
About agricultural easements in Monroe County
Farming is an important part of the county economy, providing jobs and locally grown food. Over the past 28 years, 112 farms and about 7,600 acres of agricultural land have been preserved in Monroe County through the purchase of conservation easements. Under this kind of agreement, a landowner sells development rights to a government agency, which assures the land remains in farming. For information, contact Monroe County Planning Commission at 570-517-3100 or Monroe County Conservation District at 570-629-3060.

Carol Hillestad writes for Brodhead Watershed Association's Get Outdoors Poconos, a grant-funded program.

Photos by Carol Hillestad
| | |
| --- | --- |
| | |
| Royce Fetherman and his father, Red, work together on their Cherry Valley farm. | |
A bridge across Cherry Creek at the Fetherman family farm.
| | |
| --- | --- |
| | |
| Christmas trees and grapevines populate the landscape. | Christmas comes naturally at Eagles Rest. |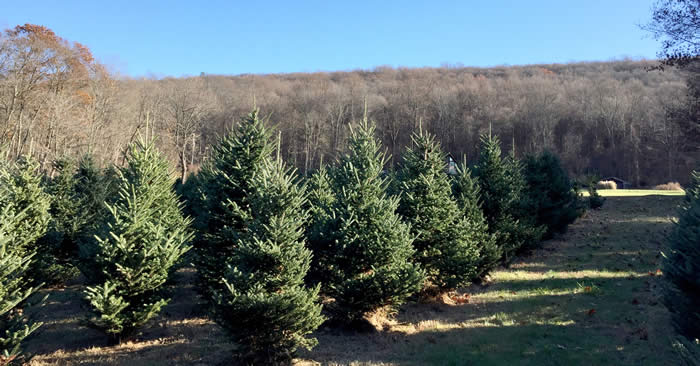 Royce Fetherman trims Christmas trees all year long.
| | |
| --- | --- |
| | |
| The Fethermans have preserved the beauty and high water quality of Cherry Creek with a land easement, ensuring the property cannot be developed. | |
---
Comments from other visitors:
Be the first to comment!
Share your experiences of this property -- what you saw, how you liked it: