Fecal Coliform Monitoring
Summer Fecal Coliform Monitoring
Sampling for the Summer of 2015 is complete and results can be access HERE.
For a map showing the sites sampled and summary of results, click HERE.
Several sites in the Pocono watershed were sampled, and only Bulgers Run showed a problem.   A geometric mean of 510.75 cfu/ 100 ml for five samples  rates the stream as impaired for recreational use.
Similarly, the tributary to the Sambo that flows from the Lake Valhalla area scored poorly with the geometric mean of 225.61 cfu/100 ml.
Two sites in the lower watershed, Marshalls Creek near the mouth and Brodhead Creek at Smithfield Park, came in with geometric means below the threshold for being declared unsafe for swimming.
One telling set of data:  6 sites were sampled on July 27 after a heavy rain the previous day.   All 6 results were above the threshold of 200 cfu/ml, meaning all 6 areas were unsafe for swimming.   What this tells us is that non-pont source pollution, pollution that washes off the land rather than is discharged from a pipe, is the major source of impairment in the lower watershed.
2014
In 2014, volunteers collected samples from the lower Brodhead Creek and  tribs, the lower Pocono and tribs, Forest Hills Run, and Lake Creek in the McMichael headwaters.  DEP funding paid lab costs for samples from 20 sites: 7 in the lower Brodhead, 8 in the lower Pocono , 2 each on Forest Hills Run and Lake Creek and one on Cherry Creek.
The DEP protocol for sampling in 2014 required 10 samples at each site, 5 samples in each of two 30 day periods.
The geometric mean for each group of five samples at each site is then calculated.   If the geometric mean for both groups of samples is over 200 cfu/ml (coliform forming units per 100 milliliters of water), the stream is then classified as "impaired for recreational use."
The study focused on the lower Brodhead and Pocono in 2014 because  monitoring in 2013 found high levels of fecal coliform in those areas.    The lower Brodhead is now listed as impaired for swimmimg and water contact activties due to those findings.   We hope to identify the source(s) of the high contamination levels.
Also in 2014 we were able to sample an additional 26 sites (11 in the lower Brodhead and 15 in the lower McMichael and Pocono) through a grant from the National Fish and Wildlife Foundation (NFWF).  (More info HERE.)    DEP protocol of 10 samples at each site was followed.
The data for all Brodhead and McMichael/Pocono sites is shown in the Report below.   Maps showing the results graphically are available below.
Additional data for sampling Lake Creek and Forest Hills Run is shown in the "All DEP funded data for 2014" report below.
Brodhead and McMichael REPORT
2013
In 2013, seven volunteers took part in the program: Don Miller and Pat Kennedy tested 4 sites on the Brodhead and McMichael creeks in the 'burgs, Sheelagh Murphy collected samples from 2 sites on Lake Creek,   Roxanne Antonwich and Wendy Lichty tested the lower Brodhead and Marshalls Creek, Darryl Speicher sampled the Leavitt Branch at two sites and Ann Hamon sampled the Pocono Creek.
The results for 2013 can be found here:  LOWER WATERSHED.  UPPER WATERSHED.  Yellow high-lighted entries are those that exceed 200 cfu (coliform forming units) per 100 milli-liters – the maximum level considered safe for swimming.
No spectacularly bad sites, comparable to the extremely high results  on Forest Hills Run in 2012, were reported this year, perhaps because no sampling was done on that stream.  However, it is clear that more readings higher than the safe level for swimming are found in the Brodhead as it flows between Stroudsburg and East Stroudsburg – most likely from  pet and other animal waste left on city streets and sidewalks and washed off by rain.
See DEP-prepared maps of streams tested and segments that do not meet safe swimming standards.
2012
In 2012, the worst site in the watershed was Forest Hills Run with one sample showing 17,000 cfu/100 (coliform forming units per 100 ml) and four other dates exceeding the swimming standard (200cfu/100ml).  At this site on Forest Hills Run, the geometric mean of 5 samples collected from 7/13/2012- 8/7/2012 was 322.16 cfu/100 mL and the geometric mean of 5 samples collected from 8/13/2012-9/6/2012 was 1195.73 cfu/100 mL.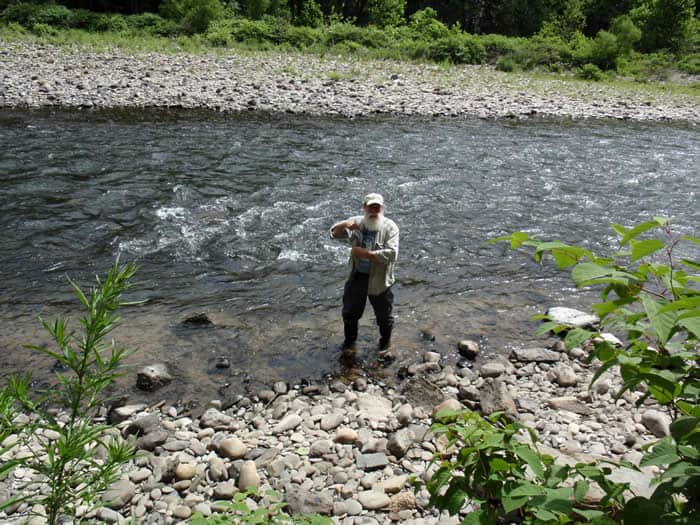 The maximum fecal coliform count allowed by state regulation from May 1 to Sept. 30 is a geometric mean of 200 cfu (coliform forming units) per 100 milliliters of water The geometric mean is calculated from samples collected on five different days over a 30-day period. The rest of the year the maximum level permitted is a geometric mean of 2,000 cfu per 100 ml.
Fecal coliform bacteria are non‑disease causing organisms which are found in the intestinal tract of all warm‑blooded animals. While fecal coliform bacteria itself does do not cause disease, it's presence means human or animal fecal waste is in the water and the waste may potential contain disease-causing pathogens.
2012 RESULTS.
PREVIOUS YEARS MONITORING RESULTS