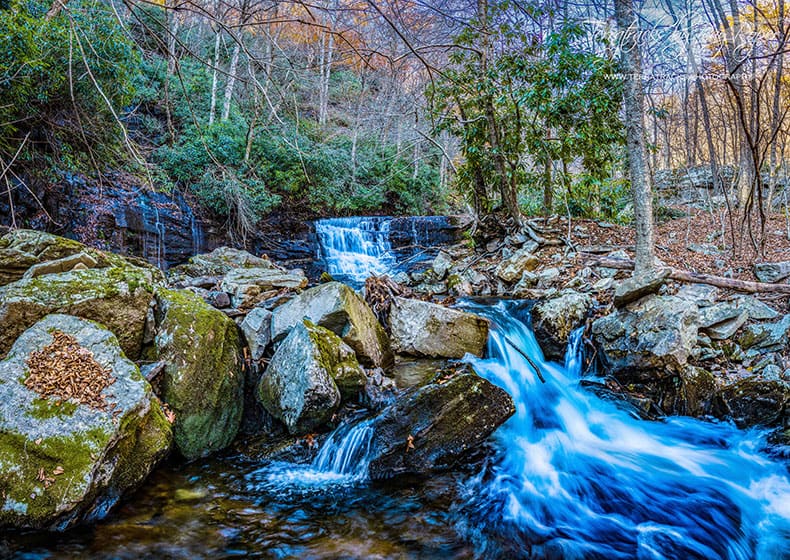 Waterfall photography talk
**Registration is now closed. Venue is at capacity.**
By some counts, Pennsylvania has 75 named waterfalls. Thirty of those are in the Poconos.
Many are privately owned. Some, like Devil's Hole, Rattlesnake Falls, Caledonia Falls, and Marshall Falls, are on public lands. But waterfalls are a magnet for people, and one person in particular has photographed dozens of waterfalls, waterways, and wetlands throughout the Brodhead watershed.
Adventurer, former pilot, and Colorado native Ray Roper has been making photos for decades. "Water in all its forms is endlessly fascinating," he said. "Frozen, flowing, cascading, even as crystals in the air – it always rewards the careful observer."
Roper has photographed many waterfalls in the Brodhead watershed, including many on land not open to the public. On Sunday, Jan. 23, 2022, Roper will share images from his collection and talk about his aesthetic choices and the love of the natural world expressed in his work.
You're invited to immerse yourself in rare views of these "gifts from the glacier."
Click here for our Woods & Water feature about waterfall photography.
---
WATERFALL PHOTOGRAPHY TALK
When: 3 p.m. Sunday, Jan. 23, 2022
Where: Brodhead Creek Heritage Center, 1539 Cherry Lane Road, East Stroudsburg, Pa.
Details: Registration is now closed.
Information: Email info@brodheadwatershed.org or call 570-839-1120.