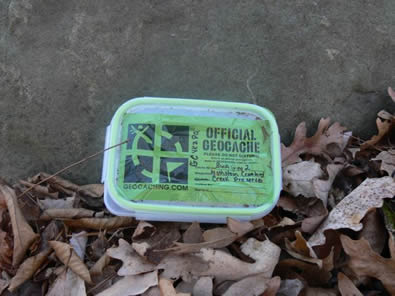 The BWA and Pocono Heritage Land Trust (PHLT) have jointly created and placed a series of Geocaches on open space preserved lands within the Brodhead watershed.  Our goal is to use this "outdoor treasure hunt" to introduce people to places they may not have known existed and to encourage them to get outdoors and enjoy the beauty and wonder of our watershed.
Geocaching is a family friendly, real-world, outdoor treasure hunting game using GPS-enabled devices. Participants navigate to a specific set of GPS* coordinates and then attempt to find the geocache (container) hidden at that location.  The only necessities are a GPS device or a GPS-enabled mobile phone so that you can navigate to the cache, and a GEOCACHING.COM free basic membership. 
On GEOCACHING.COM you obtain the gps coordinates, a description of the cache size, location, terrain, difficulty level, and sometimes even a "hint".  Use your GPS enabled device to navigate to the caches "hiding place" and start looking!  A cache has one requirement – it must contain a "log" for the geocacher to sign.  If you find the cache, sign the log and return the geocache to its original location. Be sure to record your "find" and share your geocaching story and photo's on the website when you get home!
Then take a hike, and find the BWA GEOCACHES.   You'll see some beautiful preserved parks and natural areas in the process.
* GPS – Geographic Positioning System
We've released Salmo Trutta and he's on his way to Key West, FL.  Read about him and FOLLOW HIS TRAVELS.  Geo-cache tools, Dog optional!